US is 'in mourning,' says Trump after Vegas massacre
Comments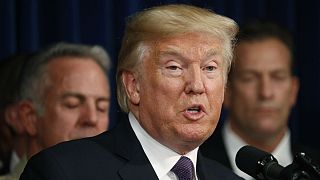 US President Donald Trump today made a speech after meeting police and medical staff in Las Vegas following Monday's massacre in which a gunman killed 59 and 525 were injured at a country music concert.
Addressing a crowd and the media at Las Vegas Metropolitan Police Department, Trump called Nevada a "special place".
Trump said America was "a nation in mourning" and said that in the depths of horror, the country "will always find hope".
Watch the full speech here
The US president made a special mention of a number of individuals including Charleston Hartfield, a police officer who lost his life, as well as many who helped others in the wake of the attack.
Absent from his speech was any mention of US gun laws – a topic on many people's lips after Monday's events.