Pique booed while training with Spanish national team
Comments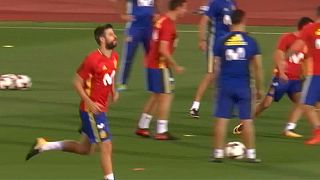 Gerard Pique was booed as he trained with the Spanish national team for the first time since he voiced his support for Catalan independence.
The Barcelona defender said he would stop playing for Spain if anybody at the Spanish Football Federation asked him to do so.
One Spain supporter, Federico, said:"We are fed up of him being a hypocrite. He might have his own ideas that's fine but keep it outside of the national team."
Another Spain fan, Blat Perez, said: "I think it's a tough situation. I guess it must be tough for Pique but people are going after him in a very strong way."
The 30-year-old has won the World cup and European Championships during his career.
Spain face Albania in a World Cup qualifier on Friday.