Monarch CEO 'absolutely devastated' by airline's failure
Comments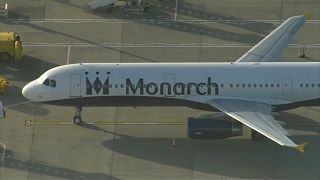 The boss of Monarch Airlines says he is "absolutely devastated" by its collapse.
CEO Andrew Swaffield told British media the failure of the UK's fifth-largest carrier was because of increased competition and lower prices in Spain and Portugal.
The grounded planes have ruined holiday plans for hundreds of thousands of tourists.
A message on a board near a deserted check-in area gave contact information for affected customers.
Those already abroad are being returned to the UK for no extra charge.