Stephen Paddock's father was a violent bank robber who was on the FBI's Most-Wanted list in the 1960s
Stephen Paddock was the gunman behind the deadly attack on the Las Vegas Strip which saw at least 59 people killed and 525 injured.
The 64-year-old opened fire from the 32nd floor of the Mandalay Bay hotel onto the 22,000-strong crowd at a country music festival.
Who was the man behind the worst mass shooting in modern American history?
Arms possession
Police said 23 guns were found in Paddock's hotel room and another 19 firearms, some explosives and thousands of rounds of ammunition were found at his home, located 145 km northeast of Las Vegas. Twelve of the his firearms had been modified into machine-gun-like weapons with so-called "bump-stocks".
Law enforcement authorities have found ammonium nitrate in the shooter's car. The compound is a fertiliser but can also be used in the making of explosives.
Paddock's firearms have been associated with the Guns & Guitars shop in Mesquite, where he was from.
Chris Sullivan, the owner of the gun shop, is cooperating with investigators and has confirmed the shooter was a customer. Sullivan said Paddock cleared "all necessary background checks and procedures".
"He never gave any indication or reason to believe he was unstable or unfit at any time," he said.
Adam Le Ferve, the former brother-in-law of Paddock's girlfriend, recalled to NBC a visit to the shooter's house in which he showed off his "gun room." Paddock reportedly told Le Ferve he was adamantly opposed to gun controls.
Hobbies
Paddock was a licensed pilot, who owned two planes. He also had a hunting license from Alaska.
Le Ferve said Paddock claimed to go hunting a couple of times a year, and was not a fan of country music.
Gambling habit
Senior law enforcement officials and a casino executive say that Paddock had gambled significant amounts of money at casinos in Las Vegas in the weeks before October 2.
There were 16 currency transaction reports (CTRs) filed on Paddock over the last few weeks, according to NBC News.
Casinos have to file CTRs when there has been transactions of more than $10,000 (€8,520), either in or out of the account.
An executive and official cited several occasions where Paddock gambled amounts over $20,000 (€17,040) and $30,000 (€25,560) in a single day.
He was also a frequent player. He had the highest 'seven stars' status at Nevada gaming firm Caesars Entertainment, meaning he got privileges such as free rooms, upgrades and player credits.
Le Ferve told NBC that Paddock spoke a lot about his success with gambling, and approached it like a business.
"He told me you've got to be strategic, you've got to be logical," he said.
According to Le Ferve, Paddock gambled from a pool of $1.5 million and used an algorithm for placing bets.
The shooter reportedly said his return on gambling was greater than if he had invested in stocks.
"His investments, his gambling were done with military precision. Everything he did was planned out to the end," said Le Ferve.
Job
Paddock has moved between 27 residences in California, Texas and Nevada.
Public records show he was employed by a predecessor company of Lockheed Martin between 1985 and 1988 as an "internal auditor".
A US Office of Personnel Management spokesperson told NBC News that between January 1978 and February 1984, Paddock worked as an internal revenue agent at the Internal Revenue Service, and from February 1984 to September 1985 he worked in auditing for the Defense Contract Audit Agency.
Family members say he also made a living from renting and managing apartment buildings.
Relatives and former neighbours have said his main source of income was gambling.
"He was a gambler, that was his job," Paddock's brother, Eric, told reporters. "He was a wealthy guy, playing video poker, who went cruising all the time and lived in a hotel room."
Girlfriend
Paddock began dating Marilou Danley last spring.
She was out of the country at the time of the attack, say police.
In the last week of September, Paddock wired $100,000 to an account in the Philippines, to which Danley has family ties.
It is unclear whether the money was intended for her, her family, or another purpose.
Danley's former brother-in-law Le Ferve said the relationship "seemed to be one of convenience."
He said Danley had been married two times before and was devout Catholic.
Family 'horrified'
Paddock grew up in Sun Valley, California. His brother, Eric, said he was a peaceful man and that his family had "no idea in the world" of what he would do.
"We're horrified. We're bewildered and our condolences go out to the victims," he told reporters.
The 64-year-old moved back to Nevada, where gambling is legal, partly because of his fondness for video poker, according to his brother.
"He's never drawn his gun, it makes no sense," he said, adding that his brother may have owned a couple of handguns he kept in a safe, perhaps a long rifle, but "no automatic weapons".
Father on FBI Most-Wanted list
Paddock's father Patrick Benjamin Paddock was a violent bank robber who was on the FBI's Most-Wanted list in the 1960s, according to NBC News.
He was described as psychopathic in an arrest warrant.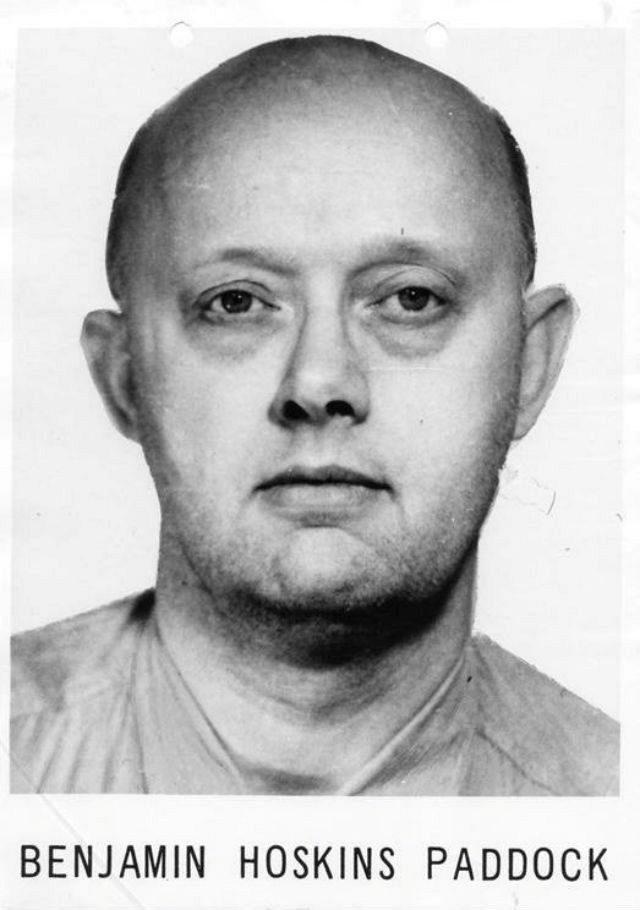 Undated photo from the FBI's Most Wanted Fugitives archives, credit FBI/Handout
ISIL claim responsibility
The self-titled Islamic State group claimed responsibility for the Las Vegas attack via its Amaq news agency.
Dubbing Paddock a "soldier of the Islamic State", they said that he carried out the attack in "response to calls to target states of the coalition".
US officials expressed scepticism of that claim and said there was no evidence so far linking the gunman to any international militant group.
No criminal record
Police said Paddock had no criminal record.
"We haven't had any traffic stops. We haven't had any law enforcement contacts, no arrests or nothing (for Paddock)," said Mesquite Public Information Officer Quinn Averett.
"No affiliation"
Paddock's brother said he had "no affiliation, no religion, no politics. He never cared about any of that stuff."