Monarch Airlines collapses, hitting hundreds of thousands of travellers
Comments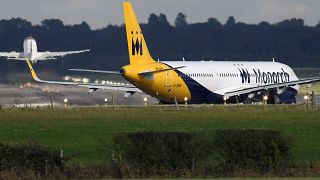 Monarch Airlines has ceased operations with immediate effect, leaving over 100,000 customers stranded and 300,000 future bookings cancelled.
It's the largest UK airline to enter administration according to the Civil Aviation Authority.
The British Government has asked CAA to charter thirty aircraft to transport stranded customers.
Customers due to fly in the UK have been told not to travel to the airport while customers outside the UK that are due to fly in the next fortnight will be brought back at no additional cost.
Monarch had been in discussions with the CAA about renewing its licence to sell package holidays but failed to reach a deal before the deadline at midnight on Sunday.
British transport minister Chris Grayling said he has spoken to other airlines about hiring employees who are losing their jobs after Monarch Airlines.