US cuts embassy staff in Cuba after mystery attacks
Comments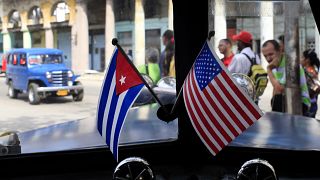 The United States has cut its diplomatic presence in Cuba by more than half over mysterious "attacks" that have caused hearing loss, dizziness and fatigue among embassy staff there.
Washington says 21 employees have been affected and that until Cuban authorities can ensure US diplomats' safety, the embassy would be reduced to emergency personnel.
President Trump had already vowed to partially roll back the US rapprochement with Havana agreed by his predecessor Barack Obama.
The U.S. embassy there will now halt regular visa operations for Cubans seeking to visit the United States.
Havana denies any role in what were initially reported as sonic attacks.
Cuba's Foreign Ministry chief for U.S. Affairs Josefina Vidal said she considered the US government moves "hasty", saying they would affect bilateral relations.
She stressed that Cuba is still keen to cooperate with US authorities to clarify what happened.
Via @AP: U.S. urges no travel to Cuba, cuts embassy staff https://t.co/PP7RCjATjKpic.twitter.com/t4Oyyx0gSq

— POLITICO (@politico) 29 septembre 2017
Officials in the Trump administration stress the US is maintaining diplomatic ties with Cuba.
But although no tourists are known to have been injured in the attacks, Washington has warned Americans against visiting the Caribbean island, a move that will likely hurt many Cubans working in hospitality.
with Reuters