Female drivers will reduce crashes in Saudi Arabia, says minister
Comments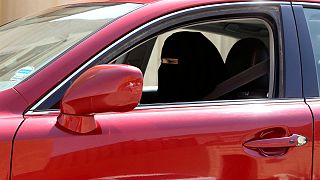 Lifting the ban on female drivers in Saudi Arabia will reduce the number of road accidents, according to the country's interior minister.
King Salman issued a decree this week allowing women in the Middle Eastern country to drive for the first time, effective from June 24, 2018.
In a series of tweets in Arabic, Interior Minister Prince Abdulaziz bin Saud bin Nayef said the "historic decision" would "reduce human and economic losses caused by accidents."
The minister didn't elaborate on how female drivers would reduce road accidents, but said the country's security forces were "ready to apply" traffic laws to both male and female drivers.
Saudi Arabia currently has one of the world's worst traffic death rates, with an estimated 526,000 accidents reported annually, and up to 17 fatalities each day.
Data shows that an increase in cars typically correlates with a rise in accidents, but this is expected to be mitigated by women ditching their chauffeur-driven vehicles.
While the real impact on accidents remains to be seen, social media users have been divided over their predictions.
So women in Saudi Arabia can drive now. Now traffic will become worse and accidents will skyrocket

— August (@augie_matarazzo) September 27, 2017
Traffic accidents in Saudi Arabia have been historically high, and since women weren't driving, the men are undoubtedly lousy drivers.

— Dale Alan (@USMC6591) September 28, 2017
To all the men making jokes about women driving, I remind you: Saudi has one of the highest car accident rates, and only men drive.

— 7ala Abdullah (@7allo) September 26, 2017
And Saudi women will cause many more traffic accidents once they're allowed to drive. #brilliantinsight

— Howard Abramowitz (@habramowitz) September 28, 2017
saudi has the highest death toll in traffic accidents. they drive like crazy down there. those gals should be carefull!

— efem dikilitaş (@efemdik) September 27, 2017
FACT: Saudi Arabia allows woman to drive.

ANOTHERFACT: Traffic accidents in Saudi Arabia expected to rise by 976%.

— Andy Chadwick (@AndyPegChadwick) September 26, 2017