Catalan police seal off polling booths to block independence vote
Comments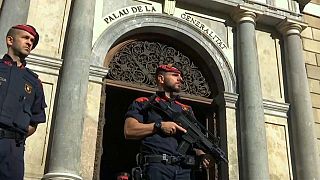 Spain's government has ordered Catalonia police to seal off polling booths to block the region's planned independence referendum on Sunday, which Madrid has declared illegal.
Hundreds of police reinforcements have been brought into Barcelona and other cities.
Catalonia's prosecutor's office says it will take the names of anyone participating in the vote and confiscate relevant documents.
Anyone in possession of the keys or entrance codes to a polling booth could be considered a collaborator to crimes of disobedience, wrongdoing and misappropriation of funds.
Madrid has also threatened fines against bureaucrats working on the ballot, including the region's election commission, which was dissolved last week.
Francesc Vida, spokesman for the Mossos d'Esquadra or regional police union says its members will carry out the government's orders as it's not up to them to decide whether the vote is legal or not.
The Spanish government's moves have sparked mass demonstrations and brought accusations from Catalan leaders that it's resorting to Franco-era repression.
Despite the measures, Catalonia's separatist leaders say they're committed to holding Sunday's vote, and their pledge to declare independence within 48 hours if there's victory for the "yes" camp.