South Koreans buy survival bags as nuclear threat from North looms
Comments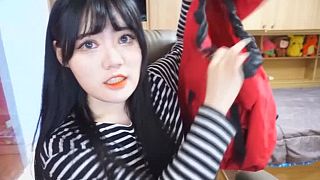 "War bags" to be used in the event of a nuclear attack were growing in popularity in South Korea amid threats from Kim Jong-un.
Such was the popularity of the "war bags" that a search on YouTube returned 7,400 results showing what they contain, created this year alone.
South Korean comedian Kang Yoo-mi created one such video, titled "I've bought a War Bag!" which has received 560,000 views.
"The reason that I bought the survival bag is because I can't dig a bomb shelter myself but I can at least afford to do this much preparation, and also (if a war breaks out) I might really be able to survive," she said.
What do the "war bags" contain?
-Candles
-A pen and paper
-Bottles of water
-Tape
-Gloves
-Packet food, such as soups and noodles
-Warm clothes
-Blankets
-A gas mask, etc.
Some South Korean residents said the videos could help educate people on what to do in the event of war, whereas others were pessimistic, saying a simple bag would not help if a nuclear bomb was dropped on the country.