Myanmar rejects UN 'ethnic cleansing' claim
Comments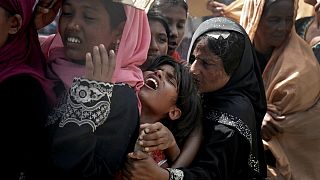 Myanmar has rejected accusations of ethnic cleansing against Rohingya Muslims as the 72nd UN General Assembly drew to a close.
The denial comes as the Myanmar army discovered the bodies of 17 Hindu villagers, taking the number to 45 the authorities suspect killed by Muslim insurgents.
Speaking in New York Myanmar's UN Ambassador Hau Do Suan, said his country was fighting terrorists:
"Let me be clear Mr. President, there is no ethnic cleansing, there is no genocide. The leaders of Myanmar who have long been striving for freedom and human rights will not espouse such policies. We will do everything to prevent ethnic cleansing and genocide."
As the Myanmar military seeks out Muslim insurgents, the county's small Hindu minority appears to have been caught in the middle.
17 More Hindus Dead bodies who were killed by #ARSA found in Northern Rakhine, total of Hindus dead bodies reached to 45 Now.#Myanmarpic.twitter.com/wMIiKpDCHz

— Thowe Htein (@thowehtein1973) September 25, 2017
Some have fled to Bangladesh, complaining of violence against them by soldiers or Buddhist vigilantes. Others have complained of being attacked by the insurgents on suspicion of being government spies.
UN aid
Meanwhile The UN has described the sweeping Myanmar military response to attacks by Muslim insurgents as 'disproportionate'.
It has also called for aid to be stepped up to help more than 400,000 Rohingya refugees who have fled across the border into neighbouring Bangladesh.
Doctors treating Rohingya Muslims from Myanmar are seeing dozens of women who apparently had been sexually assaulted https://t.co/YSJ8Im5mr9

— Kenneth Roth (@KenRoth) September 24, 2017
The UN High Commissioner has said many of the refugees seeking shelter have faced "unimaginable horrors" and continue to face hardship and risk a dramatic deterioration in circumstances unless there is more aid.
Commissioner Filippo Grandi also said that " solutions to the crisis lie within Myanmar".