Japan PM Abe calls snap election amid North Korea crisis
Comments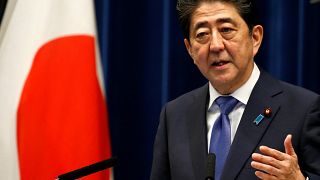 Mounting concern over North Korea's ballistic missile and nuclear weapons programmes has prompted Shinzo Abe to call a snap election.
The Japanese Prime Minister said he wanted a fresh mandate to overcome a national crisis amid rising tension with Pyongyang.
Abe also said he was seeking support to re-balance Japan's social security system.
The vote for Japan's lower house of parliament will come more than a year early.
Abe, who has seen his popularity rise recently after being in the doldrums, has been accused of trying to profit from an opposition which is currently in disarray.
But the Japanese PM has warned his country faces an unprecedented threat from the North.
The secretive state has test fired two ballistic missiles in the last month, triggering emergency drills across Japan.