Germany's SPD fall to new post-WWll low
Comments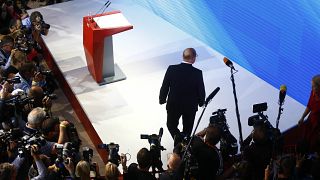 As results go it couldn't really have been worse for Germany's Social Democrats. Although they came second, they only appear to have notched up around 20 percent. In other words the SPD under Martin Schultz have fallen to a new post-World War Two low.
It means an end to the grand coalition with Angela Merkel's alliance.
"Today is a difficult and bitter day for the German social democracy, I will say it directly: we have not achieved our goal, after the defeat in our stronghold NorthRhine Westphalia, we have lost the general election."
"With this evening ends the cooperation with CDU/CSU in the big coalition."
Schultz and the SPD are now headed for a spell in opposition.
Senior SPD figures said Schulz would remain party chairman, but his position might be untenable after what many have considered a weak campaign,