Love story with a difference kicks off San Sebastian Film Festival
Comments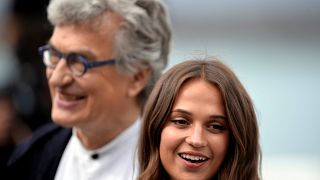 For the Spanish-speaking world, it is known as THE big celebration of cinema.
The 65th edition of the San Sebastian Film Festival got underway in northern Spain on Friday.
The paparazzi were out in force for veteran German director Wim Wenders and actress Alicia Vikander who stars in the festival's opening film, 'Submergence'.
San Sebastián: Alicia Vikander on 'Submergence,' Modern Love and Women in Cinema https://t.co/xLfivi7FmZ

— Variety (@Variety) 22 septembre 2017
Vikander plays Danielle, working on a deep sea diving project about the origins of life on earth, who falls in love with James who works for the British Secret Service and is taken hostage by jihadist fighters.
He is played by James McAvoy.
It is certainly not your average love story.
"But these two things are two sides of our contemporary lives," Wenders explained.
"We are destroying our planet. At the same time, we are experiencing violence like we haven't experienced in this form ever before as humanity.
"So these are two subjects that might look far away but because these two people love each other, because of the passion they have for what they do, they became one story."
Our correspondent in San Sebastian, Carlos Marlasca, says
"The main plots of the two protagonists take a back seat to allow Wim Wenders to put forward his particular perspective on solitude and absence. 'Submergence' will be one of 18 films competing before a jury led by actor John Malkovich."
The San Sebastian Film Festival continues until September 30.