Mexico earthquake: Rescue efforts continue as death toll rises
Comments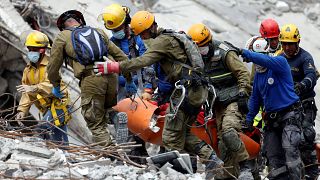 Three days on from Mexico's earthquake, the number of people killed has risen to 273 with dozens more reported missing.
Yet as rumours spread that authorities were about to send bulldozers in to clear the debris, the message was that the search for survivors continues.
In Mexico City, it is thought people may still be trapped in 10 flattened buildings.
"I stress again that rescue and support work in those buildings which collapsed will continue and will not be suspended," said President Enrique Peña Nieto.
"We will pursue the rescue missions to look for people who might still be alive under the rubble."
Mexico City's earthquake puts the world's bravest and best dogs in the spotlight https://t.co/mHFG2QJCUBpic.twitter.com/Omoj2xkRdI

— The Independent (@Independent) 22 septembre 2017
After high-profile coverage of the search for a girl under a collapsed school in the capital, the version of events has changed with official denials that any child is still unaccounted for there.
It is now thought an adult may be trapped. At least 25 people, mostly children, died in the school.
Many survivors of the 7.1 magnitude quake have lost everything.
The extensive damage to buildings has raised questions over construction standards which were supposed to have improved after a devastating quake in 1985, the anniversary of which was being marked when disaster struck on Tuesday.
Despite a massive effort by volunteers and the armed forces to gather and distribute food and basic medicines, help has not reached everybody.
Thousands of people are sleeping in their cars, rather than going to shelters or damaged homes, and in the badly damaged streets in the south of the city, some people are begging for food.
with Reuters