Bangladesh calls for "safe zones" for fleeing Rohingya Muslims
Comments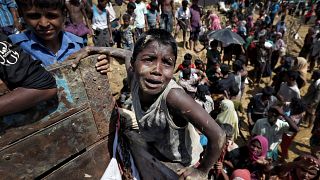 More than a thousand Rohingya children have arrived in Bangladesh on their own according to the UN's child rights agency, UNICEF.
Children make up around 60 percent of the estimated 400,000 people that have fled Myanmar's counter-insurgency operation over the past month. Many have seen family members killed and homes set on fire.
The conflict was the main topic of Bangladesh's Prime Minister address to the UN general assembly.
Sheikh Hasina accused Myanmar of carrying out "ethnic cleansing" campaign and said it was also laying landmines to stop Rohingya Muslims from ever returning.
Hasina also called for safe zones to be created under UN supervision in Myanmar's strife-hit Rakhine State.
The latest exodus of Rohingya began late last month after insurgents attacked Myanmar security forces, triggering a military crackdown and reprisals from majority Buddhists.
Myanmar has defended the conduct of its security forces and says it is committed to resolving the sectarian tensions.