Around the world in 79 days: British cyclist smashes world record
Comments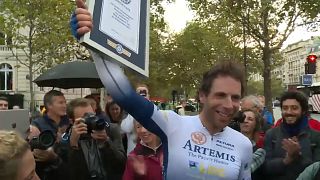 It took less than 80 days but it can only be described as a feat of epic proportions.
British endurance cyclist Mark Beaumont has broken the world record for circumnavigating the globe by bicycle.
Pedalling 16 hours a day and through 16 countries, the 34-year-old Scot smashed the current Guinness World Record by a massive 44 days.
Beaumont's trip saw him head east across Europe through Poland, Russia, Mongolia and China. He then hopped onto a plane and cycled from Perth to Brisbane across the deserts of Australia. He cycled again through New Zealand before crossing North America from Alaska to eastern Canada. He arrived back in Europe, starting in Lisbon before finally returning back to Paris where the journey began, at the Arc de Triomphe.
Speaking about his achievement Beaumont said: "I've barely walked for two and a half months. I've got out of bed at 3:30 in the morning, I've got on my bike at 4am, I've ridden til 9:30, 10 o'clock at night. I've been living in this weird bubble where I literally eat 9,000 calories a day, try and ride my bike 240 miles a day and repeat."
Beaumont was greeted by Friends and family, including his wife and two young daughters.
He had aimed to emulate French writer Jules Verne by completing his adventure in 80 days, but even broke his own target by 24 hours.