Sarah-Quita Offringa triumphs in Windsurfing World Cup
Comments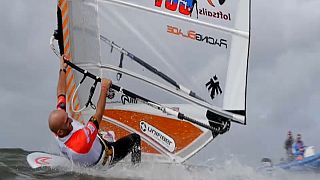 The world's best slalom windsurfers had to prove they could handle all sorts of conditions during the PWA Windsurfing World Cup at Hvide Sande in Denmark (September 9-14).
On some days there was almost no wind; on others it rose to above 90 kilometres an hour.
Dominant once more was Sarah-Quita Offringa. The Dutchwoman from Aruba won her third consecutive event, securing the slalom world title with one meeting to spare.
"Yeah, yeah, yeah, I just won, I just won the title, the slalom title, so I am very, very happy about that," she said.
Extending his lead in the men's overall ranking was Antoine Albeau from France. After falling behind to current world champion Matteo Lachino, he fought back successfully and reached top form as the winds grew stronger.
Sarah-Quita Offringa is Windsurfing Slalom World Champion 2017 https://t.co/DMNYXfAI7f

— TheFaceOfSouthIndia (@tfosi) September 15, 2017