Erdogan echoes Iraqi alarm over Kurdish independence vote
Comments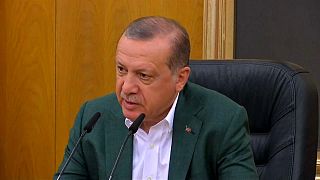 Turkey's leader has echoed international warnings over northern Iraq's proposed independence referendum. It comes amid fears in Ankara that a "yes" vote in will fuel Kurdish separatism in its southeastern region, where the outlawed PKK has waged a long insurgency.
President Recep Tayyip Erdogan told a news conference on Sunday that Ankara and Baghdad shared the same view on the vote, adding that he would meet Iraq's prime minister during his visit to the United States this week.
Iraq's prime minister has said his country is prepared to intervene militarily if the Kurdish region's planned referendum on September 25 results in violence.
The United States and other Western powers have advised Iraq's semi-autonomous Kurdish region to cancel the vote.
"We are going to discuss it during the National Security council meeting which we moved forward from (September) 27th to the 22nd. We are going to hold a cabinet meeting on the same day. Our stance will be discussed and the decision will be made. Thus Turkey will announce its ultimate position (on the referendum). This will also be an item on the agenda during my meeting with (US President) Trump," Erdogan said.
The president added that the head of Turkish intelligence had been sent to Erbil to advise the Kurdish leadership to call off the referendum.
Ankara hasn't ruled out imposing sanctions on the region if the vote goes ahead. Erbil is almost entirely dependent on oil exports for its revenues.