UK police raid house after 'significant' arrest over London attack
Comments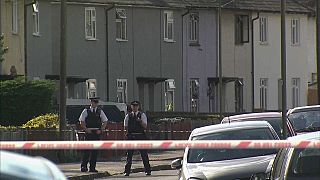 British police have arrested a teenager and raided a house near London in their hunt for whoever planted Friday's bomb on a commuter train that injured some 30 people.
Frightened residents in a suburban street at Sunbury in Surrey were told to quickly leave their homes by police as the nearby property was raided and the surrounding area evacuated.
UK media reports said the house was home to an elderly couple known to have fostered many children and young people and who had been officially honoured for their work.
The couple received MBEs – awards in recognition of outstanding achievement or service to the community – from the Queen in 2010. There has been no suggestion they are connected to the latest London attack. The Metropolitan Police's update on Saturday night about the ongoing operation made no mention of them.
Local residents were told they would not be able to return to their homes on Saturday night and were due to be put up in emergency accommodation.
The raid came five hours after an 18-year-old man was detained at the southern port of Dover in what police and Britain's Home Secretary (interior minister) Amber Rudd have said is a very "significant arrest". Suspected of terrorism, he was due to be taken to London.
The UK government says the terror threat level remains at "critical" as the police operation continues.
Armed police patrolled London streets near government departments and guarded Premier League football grounds as matches were held.
Earlier Prime Minister Theresa May said the public should not be alarmed by armed officers on the streets.
Soldiers and police have also been deployed to protect strategic locations such as nuclear plants and defence sites.
Police have described as "routine" the claim by the self-proclaimed Islamic State that it was behind Friday's attack, the fifth in Britain this year.
Britain's chief police officer, Metropolitan Police Commissioner Cressida Dick, called it "cowardly and indiscriminate".
The improvised explosive device is thought to have contained a timer and apparently failed to detonate fully when it went off on a packed overground tube train during morning rush hour in southwest London.
Senior National Co-ordinator for Counter Terrorism Policing Neil Basu provides update on Parsons Green investigation https://t.co/WFFEWVl1J1

— Metropolitan Police (@metpoliceuk) September 16, 2017