Robot conductor shares stage with Italian tenor Andrea Bocelli
Comments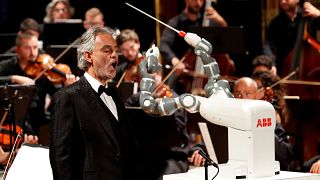 It is the ultimate proof that man and machine can make beautiful music together!
YuMi, the robot conductor, has made its opera debut in the Italian city of Pisa.
The humanoid robot showed no signs of nerves as it raised its baton to conduct the Lucca Philharmonic orchestra at the Verdi Theatre.
It was coached and monitored by maestro Andrea Colombini, the orchestra's resident conductor.
"The flexibility of the arms of YuMi is absolutely unthinkable," he said.
"Not even incredible, unthinkable for a machine. It is absolutely fantastic. And the technicians were fantastic just to make everything perfect, especially in the length and in the speed of the gesture which is very important."
A robot conducted Andrea Bocelli and an Italian orchestra in a world first https://t.co/GPh3EPj5w7pic.twitter.com/mwr14r9yt8

— The Local Italy (@TheLocalItaly) 13 septembre 2017
Celebrated tenor Andrea Bocelli, no less, performed alongside YuMi at the charity concert, marking the First International Festival of Robotics.
The two-armed robot, designed by Swiss firm ABB, conducted three of the 18 pieces performed on Tuesday night, including the famous aria La Donna e' Mobile, from Verdi's opera Rigoletto.
An epic show by ABB's #YuMirobot conducting the #Opera!
Read more: https://t.co/VTYi85oOHX#Robotics#Orchestra#musicpic.twitter.com/D5HEETyiOs

— ABB Robotics (@ABBRobotics) 13 septembre 2017
Despite the success of YuMi, whose name is derived from the phrase 'you and me', there are limitations.
The robot is not able to improvise and any unexpected change in tempo from the musicians would have been ruinous.
with Reuters