The prehistoric megalithic circle of Stonehenge in southwest England is to be freed from the sight, sound, and smell of traffic.
Under plans announced by the UK government on Tuesday, a busy road that brings millions of tourists to the site every year will be buried in a tunnel.
Thousands of hippies, druids and pagan worshippers flock to the stones to celebrate the summer and winter solstices, they're aligned in such a way that they perfectly frame the sunrise at midsummer and sunset at midwinter, contributing to the site's mystique.
But the nearby A303, a perpetually congested road that is part of the main route linking London to the counties of Devon and Cornwall, has long blighted the World Heritage Site.
After years of debate and consultation, the go-ahead has been given to dig a tunnel at least 2.9 km (1.8 miles) long to move the section of the A303 that passes closest to Stonehenge. It's part of a broader nearly 1.8-billion-euro upgrade of the A303 aimed at boosting the economies of Devon and Cornwall, scenic rural counties which suffer from poor transport links to the rest of Britain.
But not everyone is pleased with the announcement – ministers have sparked outrage among historians and archaeologists who believe there are still 'hidden treasures' to be discovered on the site.
Stonehenge: Historians Furious Over Government Go-Ahead For Road Tunnel Under World… https://t.co/sDCJK8hHjG

— WorldHeritageNews (@HeritagePaper) September 12, 2017
A massive new road scheme right through a World Heritage Site. Thank you on behalf of future generations,Mr Grayling #Stonehenge

— Tony Robinson (@Tony_Robinson) September 11, 2017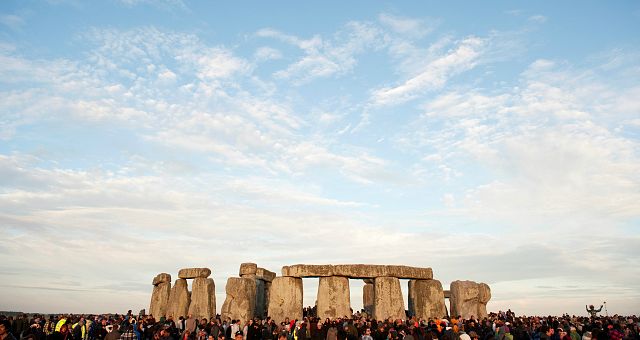 STONEHENGE – A BRIEF HISTORY
For centuries, historians and archaeologists have questioned the many mysteries of Stonehenge.
The prehistoric monument that took Neolithic builders an estimated 1,500 years to erect, is believed to have been built in several stages with the earliest constructed 5,000 or more years ago.
The megaliths, of which the largest weighs more than 40 tons and rises 24 feet, were likely sourced from quarries close to Salisbury Plain and transported with the help of sledges and ropes.
The smaller bluestones, on the other hand, have been traced all the way to Wales, some 200 miles away from Stonehenge.
Modern historians and archaeologists now believe that several distinct tribes of people contributed to Stonehenge, each undertaking a different phase of its construction.
While many agree that Stonehenge was once a burial ground, they still aren't certain of any other purposes it may have served – even more baffling, how a civilization without modern technology—or even the wheel—produced the massive monument.