Pressure mounts on Myanmar over Rohingya exodus
Comments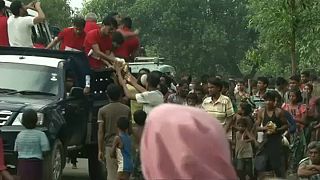 Myanmar is facing mounting pressure over the mass Rohingya refugee exodus.
On Monday, the UN's top human rights official said the country's treatment of the Muslim minority appeared to be a "textbook example" of ethnic cleansing.
Britain and Sweden are seeking a closed-door Security Council meeting to discuss the "deteriorating situation.
British Foreign Secretary Boris Johnson said: "There can be no doubt that the treatment of the Rohingya is a disgrace and I'm afraid it is damaging the reputation of Burma (Myanmar). And all of us who wish Aung San Suu Kyi well, the State Counsellor well, all of us who admire her, hope she will be able to use her leadership to get the military to do the right thing for that beleaguered and oppressed minority."
Myanmar insists it is fighting "terrorists", but its security forces have been accused of burning Rohingya settlements, extrajudicial killings and using landmines against civilians.
One man said: "I still have some other relatives including my aunt living in a village in Myanmar. They have just called me (and said) that the military set fire to their house."
More than 300,000 Rohingya have fled to neighbouring Bangladesh recent weeks.
Washington has also condemned the displacement of the Rohingya and called on Myanmar to end the violence.