British theatre giant Sir Peter Hall dies aged 86
Comments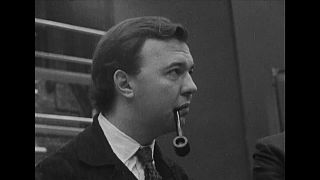 The remarkable Sir Peter Hall has died, aged 86.
The man who created The Royal Shakespeare Co, Sir Peter Hall, has died. He transformed classical and modern UK theatre and gave me a career.

— Patrick Stewart (@SirPatStew) 12 septembre 2017
The legendary producer and director was a powerhouse of British post-war theatre who, along with near-contemporary Peter Brook notably shook up the classics like Shakespeare, and introduced daring new authors to the public; for example, giving Samuel Beckett his premiere in London with "Waiting for Godot" in 1955.
Howard Brenton and Tom Littler would like to dedicate this evening's opening performance of The Blinding Light to the memory of Peter Hall.

— JermynStreetTheatre (@JSTheatre) 12 septembre 2017
Landmark productions aside, his greatest legacy has to be his founding of, first, the Royal Shakespeare Company and its Stratford-on-Avon theatre, and the National Theatre in London. The latter was especially influential in presenting a host of new works and writers from the early 1970s on, many of whom went on to become greats themselves.
Michael Pennington and Felicity Kendall in Stoppard's translation of The Seagull, directed by the late Sir Peter Hall. pic.twitter.com/4ZCaNeyhyj

— Tom Stoppard Quotes (@StoppardQuotes) 12 septembre 2017
Born the son of a railwayman, Hall ended up rubbing shoulders with princes and the creme of society, a larger-than-life, serially married lover of luxury attacked by some critics for demanding more public money to put
on his shows. Yet he was not aloof, and was very hands on with his productions, which the public mostly loved.
#RIPSirPeterHall A titan of theatre. Condolences to his lovely family https://t.co/fFKMcX3zZc

— MeeraSyal (@MeeraSyal) September 12, 2017
'Less is more.' 'The play's the thing'
Fascinating if you are at all interested in the theatre.

What a loss #RIPSirPeterHallhttps://t.co/IhDTFOxkNf

— Poetry, mostly (@AllieEsiri) September 12, 2017