Hurricane Irma weakens as Florida prepares to count the cost
Comments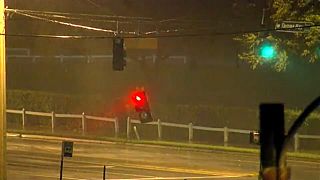 Hurricane Irma is losing strength and could weaken to a tropical depression by Tuesday, the US National Hurricane Center has said.
The massive storm, once ranked as one of the most powerful hurricanes ever recorded, continues to track Florida's west coast bringing high winds and driving rain.
The full extent of Irma's destruction, however, is still unclear. At least four deaths have been linked to the storm in Florida on top of the 28 people killed in the Caribbean.
Millions in the Sunshine State have been left without power.
Much of Miami is under water, while Tampa has not been hit by a hurricane since 1921.
Despite losing strength, Irma still has sustained wind speeds of 130 kilometres per hour.
Storm surge warnings also remain in place across large parts of Florida, from where six million people fled in one of the biggest evacuations in US history.