Hurricane Irma smashes into Florida Keys
Comments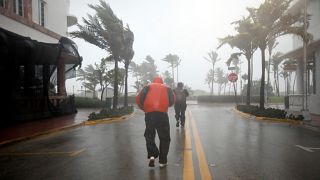 Hurricane Irma has hit the Florida keys as a category four storm according to the National Hurricane Center. Extreme winds and life-threatening storm surges are already battering the coast, they're expected to last for some hours.
The storm, which has killed at least 24 people in the Caribbean is believed to be carrying with it winds of around 210km an hour. Storm surges pushed by a high tide are forecast to be as high as 15 feet, or 4.6 meters, producing catastrophic flooding for thousands of homes.
6.3 million people, or about a third of the state's population, had been ordered to leave, one of the largest evacuations in US history. For those who didn't leave, shelters were filling up quickly with some people being turned away. The western Gulf coast is expected to be worst affected, with cities such as Tampa and St Petersburg in the path of the storm.
Irma is likely to cause billions of dollars in damage, slamming the state that is a major tourism hub, with an economy comprising about 5 percent of US gross domestic product.