Female referee makes Bundesliga history
Comments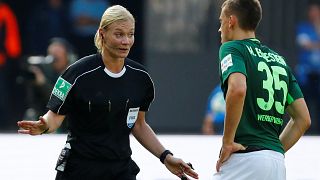 A 38-year-old police officer has become the first woman to referee a match in one of Europe's top football leagues.
Bibiana Steinhaus took charge of the Hertha Berlin versus Werder Bremen match in the german Bundesliga on Sunday. The game finished one goal apiece and was largely controversy free, with Steinhaus only having to go into her pocket once to show a yellow card.
She has refereed in Germany's second tier for ten years and in the women's game has officiated a Champions League and World Cup final.