Farage talks Brexit at German far-right rally
Comments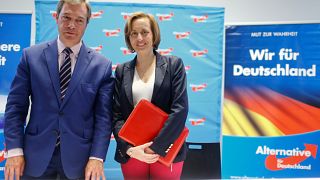 Former UK Independence Party leader Nigel Farage said on Friday that British Prime Minister Theresa May might be out of a job by Christmas unless she asserts her authority over her Conservative party and on the Brexit negotiations.
Farage was speaking at an election campaign event for the right-wing Alternative for Germany (AfD) in Berlin, where he received a standing ovation.
"If she doesn't do those two things, doesn't get some sense of order back into her own party and direction back in the way the renegotiations are going, then I think the whispering campaign will go from being something that is being one in private to being done in public and she might not last till Christmas," Farage said.
Ahead of Germany's Sept. 24 parliamentary election, he shared the stage with the AfD's 46-year-old deputy chairwoman Beatrix von Storch, a granddaughter of Hitler's finance minister.
Farage, whose party helped bring about Brexit's decision to leave the EU, said he did not believe the EU would still be around in 10 years' time. He deplored the lack of discussion of Brexit in the German campaign.
"(I'm trying) to get a proper debate going in the biggest, richest and most important, powerful country in Europe about not just the shape of Brexit but perhaps even the shape of the European project to come," Farage told reporters.
Farage said Chancellor Angela Merkel and her Social Democrat (SPD) challenger Martin Schulz had refused to discuss Brexit as it was a "huge embarrassment for the European dream that both of them have had".
Brexit may embarrass Merkel and Schulz, but they need to start talking about it to protect the jobs of their own workers. pic.twitter.com/NG3KaJLWYO

— Nigel Farage (@Nigel_Farage) September 8, 2017
It's Farage's latest of several intervention in foreign politics since supporting then US presidential candidate Donald Trump last year.
He said he'd prefer the next German government be led by Merkel than Schulz, but that he's "not a big fan of either."
He called Schulz, a former European Parliament president, a "pro-EU fanatic" who'd "put the interests of Brussels" first in Brexit negotiations.
Merkel, he said, "in terms of current contemporary European leaders, has more authority than all the rest".
He added that Germany's next chancellor needs to tell EU officials to "grow up and start behaving" and strike a trade agreement with the UK.
That position matches the AfD's, which wants Germany to leave the euro area, slash immigration levels and strike a Brexit deal tailored to German economic interests.
The anti-immigration, anti-Islam party is now polling around five to 10 percent, putting it on course to become the first hard-right nationalist party to enter the German parliament since World War II and the fall of Nazism.
Now that he thinks he's secured #Brexit, #Farage no longer hides his true colourshttps://t.co/efdX92z2xK

— Richard Corbett (@RCorbettMEP) 8 septembre 2017