US outlines plans to dismantle DACA immigration scheme
Comments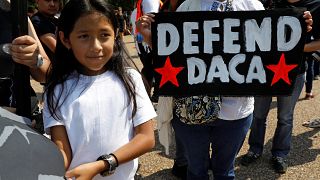 Plans to dismantle the Obama-era 'Dreamers' scheme have drawn criticism from both sides of the US political divide.
The US administration has laid out how it will wind down the , or Deferred Action for Childhood Arrivals (DACA) programme, which protected from deportation undocumented children in the country and eventually allowed them to work.
Republican Senator John McCain has called US President Donald Trump's decision to rescind the project the "wrong approach to immigration policy." His colleague Jeff Flake also announced his opposition to the proposal.
It should be evident from the fear and confusion surrounding #DACA that executive actions have a short-shelf life… 1/5

— Jeff Flake (@JeffFlake) September 5, 2017
In a statement, House Democratic leader Nancy Pelosi called the move "a deeply shameful act of political cowardice."
However, Trump has defended the decision as necessary to safeguard the rule of law in the country.
"I do not favor punishing children, most of whom are now adults, for the actions of their parents. But we must also recognize that we are a nation of opportunity because we are a nation of laws," he said. He added that former President Barack Obama had bypassed Congress to found the programme in 2012 and said:
"There can be no path to principled immigration reform if the executive branch is able to rewrite or nullify federal laws at will."
Attorney General Jeff Sessions said Congress would have six months to establish an alternative to DACA.
"The effect of this unilateral executive amnesty, among other things, contributed to a surge of minors at the southern border that yielded terrible humanitarian consequences. It also denied jobs to hundreds of thousands of Americans by allowing those same illegal aliens to take those jobs," he told the press.
According to administration officials, the Department of Homeland Security will allow some DACA recipients whose permits expire before March 5, 2018, to apply for renewal within a month (by October 5, 2017).
Former recipients whose permits expire will be considered to be staying in the US without permission and will be eligible for removal. However, officials said they will be a low priority for immigration officials.
Some 27 million foreign-born workers are employed in the US. Estimates suggest some 800,000 young adults who were born outside the US but have lived in the country for a decade risk deportation.
On the first day of school for many students in the country, there are reports of pupils in Denver, Colorado, walking out in protest at the decision.