Prince William and wife Kate expecting third child
Comments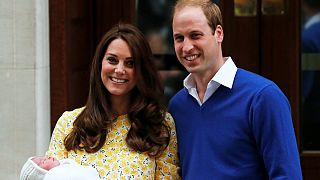 Prince William and Kate, the Duke and Duchess of Cambridge, are expecting their third child, Kensington Palace said on Monday.
"The Queen and members of both families are delighted with the news," Kensington Palace said in a statement.
Read the press release in full ↓ pic.twitter.com/vDTgGD2aGF

— Kensington Palace (@KensingtonRoyal) September 4, 2017
The Duke and Duchess of Cambridge are very pleased to announce that The Duchess of Cambridge is expecting their third child pic.twitter.com/DZCheAj1RM

— Kensington Palace (@KensingtonRoyal) September 4, 2017
Britain's monarchy has ridden a wave of public support in recent years due to the popularity of William, Kate, and William's brother Harry, and the news was soon making headlines around the world.
The royals are already parents to 4-year-old Prince George and 2-year-old Princess Charlotte. Their third child would be fifth in line to the British throne. William, 35, is the eldest son of Prince Charles, the first in line to the throne, and a grandson of the queen.
As during her first two pregnancies, Kate, 35, is suffering from acute morning sickness – also known as hyperemesis gravidarum – and had to cancel her official engagements for Monday, the statement read.
Hyperemesis gravidarum can cause severe nausea and vomiting and requires supplementary hydration and nutrients. The condition forced Kate to be admitted to hospital in the early months of her first pregnancy with George.
She was being cared for at Kensington Palace. That's where she last made a public appearance last week, when princes William and Harry visited a public garden dedicated to their mother Diana, 20 years after her death.
Full statement as Prince William and Kate announce they are expecting their third child https://t.co/GOUpRauIHUpic.twitter.com/d553Q7AzeL

— Mirror Royal (@MirrorRoyal) September 4, 2017
Prince Harry asked how Kate is doing after news she's pregnant pic.twitter.com/7Z3SFhM595

— Daily Mirror (@DailyMirror) September 4, 2017
Harry was in Manchester visiting a centre supporting people affected by a bombing at an Ariana Grande concert in May when he gave his reaction. "Fantastic, great, very very happy for them," he said.
In a sign of how the young royals have helped to modernise the House of Windsor, the princes have spoken about the trauma of her death and its lasting emotional impact.
William and Kate have returned to live in Kensington Palace after an earlier spell in Norfolk, eastern England, enabling them to dedicate more time to their royal duties on behalf of William's grandmother, the queen. William has also given up his job as an air ambulance helicopter pilot.
One of three herself, Kate had prompted speculation earlier this year that she wanted a third child when she was presented with a cuddly toy designed for newborns during a trip, telling William: "We will just have to have more babies."
Kate Middleton's best mummy moments with Prince George and Princess Charlottehttps://t.co/3Wxgopsu9dpic.twitter.com/kJAFVglB88

— Mirror Royal (@MirrorRoyal) September 4, 2017
Pregnant Kate hopeful to still do school run with Prince George despite morning sickness https://t.co/MTGPeC1MVnpic.twitter.com/gw1eNlTlDQ

— Daily Express (@Daily_Express) September 4, 2017