Violence at protest for missing Argentinian activist
Comments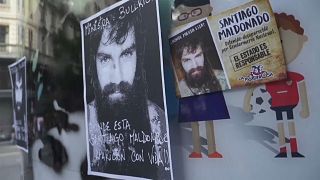 There have been angry scenes in Argentina as tens of thousands of protesters gathered to call for a missing indigenous rights activist to be found. They want the government to do more to trace Santiago Maldonado.
The 28-year-old was reportedly arrested during a protest in support of the Mapuche indigenous group in August and has not been seen since.
Riot police clashed with campaigners in the Placa de Mayo in front of the presidential palace in Buenos Aires in Buenos Aires as they demanded the government to find the Maldonado alive.
His sister-in-law, Andrea Antico, who was at the demonstration, says the authorities are not carrying out a proper investigation.
"Santiago disappeared after violent repression in the Mapuche community, so it is the authorities that have to give an answer," she said. "From the outset, they looked for him as a lost person and he is not lost. He has disappeared."
President Mauricio Macri has offered a $27,000 reward for information on Maldonado's disappearance.
An estimated 30,000 people died or were forcibly 'disappeared' during the country's 'Dirty War' between 1976 and 1983 under a military dictatorship.
Un mes sin #SantiagoMaldonadopic.twitter.com/mEThXhRuN8

— Damian De Biassio (@damiandebi) 1 septembre 2017