Serena Williams gives birth to baby girl
Comments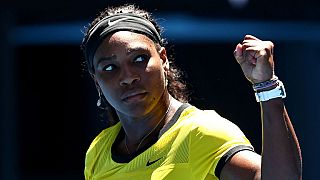 Former world number one tennis player Serena Williams gave birth to a baby girl at St. Mary's Medical Center in West Palm Beach, Florida.
The family has not yet announced the name of the baby, who was born on Friday.
She revealed her pregnancy in April when she accidentally posted a short-lived selfie on Snapchat with the caption: "20 weeks".
Williams was about two months pregnant when she captured her 23rd grand slam singles title at the Australian Open. In an interview with Vogue she said that she had only found out about her pregnancy two weeks before the tournament.
She then posted several videos to social media showing her hitting balls during her pregnancy, but did not compete after winning the Australian Open in January.
Serena, who is the world's highest-paid female athlete, has been adamant she'll return to the tour after having the baby, according to ESPN.
The 35-year-old American is engaged to Reddit co-founder Alexis Ohanian.
Reactions from tennis pros around the world
Serena's sister Venus, who is taking part in the U.S. Open in New York City, refused to comment on Serena's birth in her post-match news conference.
"I'm definitely available to answer questions about tennis, that's all right now," Venus told reporters.
But she broke the silence when a reporter asked whether Serena's daughter had a two-handed backhand and enough depth on her forehand.
"Oh, my gosh," Venus said. "That's hilarious."
"Obviously I'm super excited. Words can't describe it," Venus said just before starting her third-round match.
Spanish tennis player Garbine Muguruza, who beat Venus in July's Wimbledon final also wished Serena well. To the news that Serena had a girl, she responded jokingly: "I hope she doesn't play tennis!"
Spain's veteran Rafael Nadal tweeted: "Congrats Serena!!! So much joy for you!!!"
The US Open Tennis official Twitter account shared a video with heartfelt tributes.
From BillieJeanKing</a> to <a href="https://twitter.com/BMATTEK">BMATTEK, players past & present congratulated serenawilliams</a> on becoming a mom.<a href="https://t.co/7POxcRfXnE">https://t.co/7POxcRfXnE</a> <a href="https://twitter.com/hashtag/USOpen?src=hash">#USOpen</a> <a href="https://t.co/oDZFFU4Q3I">pic.twitter.com/oDZFFU4Q3I</a></p>— US Open Tennis (usopen) September 2, 2017