Search continues for Hurricane Harvey survivors
Comments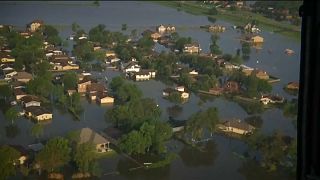 Rescuers are searching painstakingly through flooded neighbourhoods across southeastern Texas for people stranded by Hurricane Harvey.
The storm, one of the costliest to hit the United States, has displaced more than 1 million people, with 50 feared dead from flooding that swelled river levels to record highs.
The local authorities in Beaumont are handing out bottled water to residents after flooding swamped the city's water system knocking out the drinking water supply. City officials say they can't undertake repairs until floodwaters recede.
President Donald Trump plans a second visit the region this weekend and has asked Congress for nearly eight billion dollars in federal disaster relief.
Meanwhile, a fire which started when a truck storing chemicals exploded at a flooded chemical plant has burned itself out. But there are fears of more blasts in other trucks storing the same chemicals in the coming days.