Colombia's disarmed FARC rebels form political party
Comments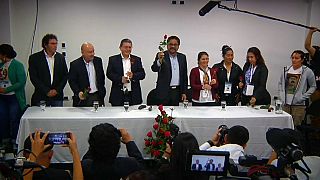 Colombia's disarmed FARC rebels have their eye on forming a coalition for the 2018 elections as the group marks its transition to a political party.
The former Revolutionary Armed Forces of Colombia, will now be called the Revolutionary Alternative Common Force, preserving its FARC Spanish acronym.
"It could be that for some people the initials 'FARC' carry a negative meaning," said Ivan Marquez, FARC spokesperson, "but at the same time it represents our accumulated history, our revolutionary past that won't be painted over.
"We are only going to continue the fight but on another field, that of legal politics. We began by leaving our weapons."
A red rose is the logo of the new political party of Colombia's FARC, now fighting for revolutionary politics with words not weapons. pic.twitter.com/BwduOa1bdO

— Heather Gies (@HeatherGies) 1 September 2017
The group ended its part in a war that has killed more than 220,000 people under a 2016 deal which granted amnesty to most of its fighters.
The FARC will hold 10 automatic seats in Congress through 2026 under the terms of the accord and may campaign for others.
Whether the ex-rebels can convince Colombians to back the new party remains to be seen.
Both legislative and presidential elections are set for 2018 and the party plans to reach out to ideological allies to try to form a coalition, without abandoning its Marxist commitments to land reform and social justice, the group said.
"We are continuing, via an exclusively political path, our historic goal and aspiration for a new order of social justice and true democracy in our country," said Marquez.
The FARC's often old-fashioned Marxist rhetoric strikes many as a throwback to their 1964 founding, but concrete proposals for reforms to complicated property laws could get traction with rural voters who struggle as subsistence farmers.