Thousands die in floods in Africa and Asia as climate change worsens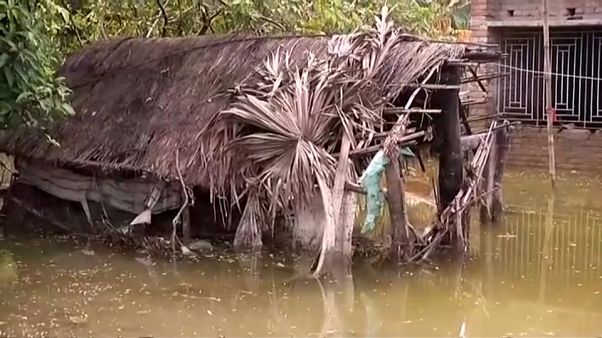 With the media focus on the chaos wrought by Hurricane Harvey in the US, floods have killed many more people in Africa and Asia this year, as climate change worsens
extreme weather worldwide.
More than 1,200 people were killed in India, Bangladesh and Nepal with some 40 million more affected by the floods.
"People should know about what is happening here": hannarosebutler</a> <a href="https://twitter.com/hashtag/India?src=hash">#India</a> <a href="https://twitter.com/hashtag/Bangladesh?src=hash">#Bangladesh</a> <a href="https://twitter.com/hashtag/Nepal?src=hash">#Nepal</a> <a href="https://twitter.com/hashtag/floods?src=hash">#floods</a>. <a href="https://t.co/cYbDodHYBC">https://t.co/cYbDodHYBC</a> <a href="https://t.co/NqmNsjPn7G">pic.twitter.com/NqmNsjPn7G</a></p>— IFRC Asia Pacific (IFRCAsiaPacific) 31 août 2017
The worst floods in a decade struck Nepal killing 150 people and destroying 90,000 homes. Monsoon floods submerged more than a third of low-lying, densely populated Bangladesh, causing more than 130 deaths and widespread crop damage.
In India's eastern state of Bihar, 17.1 million have been affected according to disaster management officials while in the northern state of Uttar Pradesh, about 2.5 million have been affected.
The latest disaster zone is Pakistan's largest city, Karachi, where this week floods killed at least a dozen people.
All three countries suffer frequent flooding during the June-September monsoon season, but aid agencies say things are worse this year with thousands of villages cut off and people deprived of food and clean water for days.
Tens of thousands of houses, schools and hospitals have been destroyed as aid agencies prepare for more deaths, hunger and water-borne diseases.