Renewed tensions in Kenya after Supreme Court annuls election result
Comments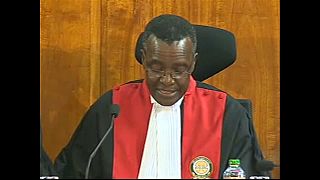 Kenyan President Uhuru Kenyatta says he disagrees with an historic Supreme Court decision to annul the result of last month's presidential election, citing irregularities. The country must now hold a new presidential election within two months.
"I personally disagree with the ruling that has been made today. But I respect it." he said in a televised address to the nation. "My primary message today to every single Kenyan is peace. Let us be people of peace."
His challenger, opposition leader Raila Odinga, welcomed the ruling.
"This indeed is a very historic day for people of Kenya and by extension for people of the continent of Africa," he said. "For the first time in history of African democratization a ruling has been made by a court nullifying the irregular election of a President."
Odinga has called for the election commission to resign and for some officials to face criminal prosecution.
"It is now clear that the entire edifice of the (election board) is rotten. Clear evidence shows that the commission was taken over by criminals … they must face criminal
prosecution," he said, naming particular officials. "We are ready but cannot repeat the election with this commission."