Protests at Polish logging of ancient forest
Comments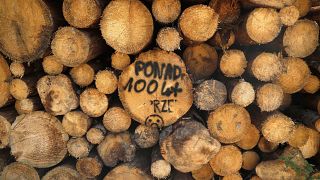 It's the new front in the bitter conflict pitting Warsaw against Brussels: Europe's oldest forest, at Poland's border with Belarus.
Bialowieza forest is a UNESCO World Heritage site and a protected area for its rare plants and wildlife.
For weeks, environmental activists have been trying to stop large-scale logging of the forest, as demanded in July by Europe's top court.
Poland's right-wing government says the forest is under attack from bark beetles, and the solution is to cut down affected trees before they fall on someone. The conservative government has tripled the quota of wood that can be harvested.
Activists say the safety argument is a cover for commercial logging.
"The first time in my life I came to Bialowieza before Easter this year, and I saw the scale of cutting, of logging, and it broke my heart – literally," says Patrycja Art, Greenpeace activist.
Greenpeace steps up protest against Polish forest logging https://t.co/aB5XQgLKqi via physorg_com</a></p>— Luciano (JoongWu) September 1, 2017
Would you put your body on the line to stop some of Europe's oldest trees from being cut down? https://t.co/jObrBgWhKI#bialowiezapic.twitter.com/fcLe23Fh8H

— Greenpeace (@Greenpeace) September 1, 2017
At loggerheads
Bialowieza forest is one of the last and largest remaining tracts of primeval forest that once stretched across the European Plain.
The United Nations' cultural body UNESCO has called on Poland to halt logging there, saying it could otherwise decide to place it on its list of world heritage sites in danger.
Tensions at the site are running high. This week a TV news crew was manhandled by lumberjacks when trying to film logging operations.
Activists were holding signs reading "whoever enters this area commits an offence" and blocking a truck loaded with logs. The trucks were ready to leave in defiance of a July order by the EU's Court of Justice to immediately stop the cutting and leave logged trees in the forest for further inspection by independent specialists.
Brussels has been pressing the Eurosceptic Polish government to respect EU law and values, and has threatened to take action that could ultimately strip Warsaw of its voting rights in the bloc.
Triggering the so-called Article 7 procedure would deal an unprecedented blow to Poland, as it would become the first country to be scolded by the rest of the EU over democratic values in such a direct way.
EU's Timmermans says Poland not budging on rule of law, signals more steps https://t.co/ZVFEPtYzLwpic.twitter.com/xoH64weGee

— Reuters UK (@ReutersUK) August 31, 2017