US gives Russia 48 hours to close consulate in San Francisco
Comments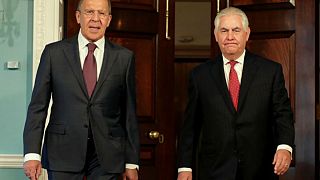 US authorities have told Russia it has 48 hours to close its consulate in San Francisco and annexes in Washington DC and New York. The State Department announced the decision, which comes in response to Moscow's decision to downsize the US diplomatic mission in Russia.
In a telephone call to US Secretary of State Rex Tillerson, Russia's Foreign Minister Sergei Lavrov reportedly expressed regret about the escalation in tension between the two countries.
In July, the Kremlin ordered Washington to slice its diplomatic and technical staff in Russia by over 50 percent, to 455 people. This followed a decision by the US Congress to overwhelmingly approve new sanctions against Russia.
US hopes to avoid further retaliation & move forward with improved relations & cooperation with #Russiahttps://t.co/M3frokDACn

— Department of State (@StateDept) August 31, 2017
Reacting to Thursday's decision to close the San Francisco consulate, US State Department spokeswoman Heather Nauert said in a statement:
"We believe this action was unwarranted and detrimental to the overall relationship between our two countries."
"In the spirit of parity invoked by the Russians, we are requiring the Russian government to close its Consulate General in San Francisco, a chancery annex in Washington, D.C., and a consular annex New York City," she added. "These closures will need to be accomplished by September 2."
U.S. implemented unwarranted #Russia decision 2 reduce mission size & we require action by them to achieve their desire 4 parity @statedeptpic.twitter.com/0wgGC7m5kX

— Heather Nauert (@statedeptspox) August 31, 2017