Inspired by an officer at London's Notting Hill Carnival, here's our list of the best dancing policemen.
A policeman at London's Notting Hill Carnival stunned crowds with his dance moves on Sunday (August 27).
Here's our top five of police officers caught on camera dancing.
#5 Officer Deuntay Diggs
Where: Stafford, Virginia, USA
When: 15/10/2016
Officer Deuntay Diggs joined North Stafford High School's dance team at a rally last year, sending the crowd into raptures.
SCPSchools</a>, <a href="https://twitter.com/diggsdt">diggsdt made a surprise visit to #NorthNation to dance with our Dance Team at the Pep Rally. Thank you staffcosheriff</a>! <a href="https://t.co/lYtzo6u8HF">pic.twitter.com/lYtzo6u8HF</a></p>— NSHS Wolverines (NSHSWolverines) 15 octobre 2016
#4 Met Police
Where: Hendon, London, UK
When: 06/05/2016
The Metropolitan Police took on the Running Man Challenge earlier this year. This viral dance trend began when two University of Maryland basketball players posted a video doing the dance step "running man" to Ghost Town DJ's song 'My Boo'.
#3 Oshawa police officer
Where: Oshawa, Canada
When: 06/02/2017
A police officer was urged to stop what seemed to be a fight in downtown Oshawa. Once he got to the scene and realised it was actually a dance crew film shoot, the cop joined in and the video went viral.
#2 Metropolitan Manila Development Authority
Where: Manila, Philippines
When: 06/06/2016
The MDNA danced to "Shake Your Groove Thing" by Peaches & Herb to raise awareness of an earthquake drill that would take place on June 22 that same year.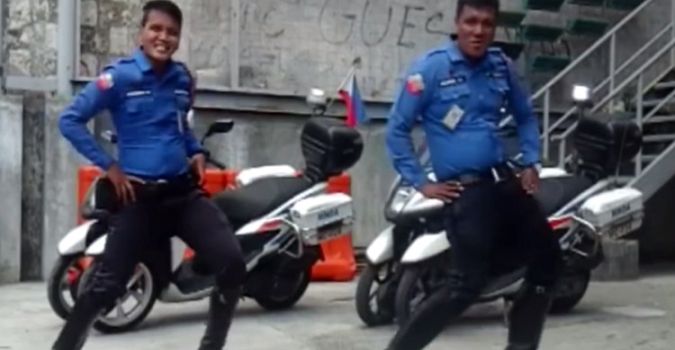 #1 Officer Daniel Graham
Where: Notting Hill, London, UK
When: 27/07/2017
Officer Daniel Graham showed off his dancing skills at Notting Hill Carnival. Graham had already proved his talent by making it to the semi-finals of this year's 'Britain's Got Talent'.