Tight security in Mecca for Haj pilgrimage
Comments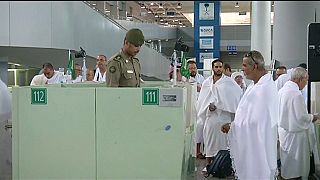 Security is tight in Saudi Arabia as the country receives more than two million Muslims for the annual Haj pilgrimage.
Pressure is on in Mecca to make sure there are no repeats of past incidents including deadly stampedes and crushes.
Pilgrims come from all over the world for the five-day event.
One of the highlights of the Haj is when Muslims converge on Mount Arafat on Thursday.
Mohammed Bin Abdullah al-Qasem, head of the Saudi Red Crescent Authority, told reporters: "We are ready, we have more than 2400 members in addition to a big number of volunteers.
"We have about 100 temporary ambulance centres in the area where pilgrims perform rituals in Mecca, and we have four helicopters."
One pilgrim from Bangladesh said: "I think they are well organised. Sometimes it can get really congested and busy, but I think they are managing and coping with everything."
A stampede and crush of pilgrims in 2015 left hundreds of people dead.
Various estimates put the death toll at between 700 and more than 2400.