Thousands flee escalating violence in Myanmar
Comments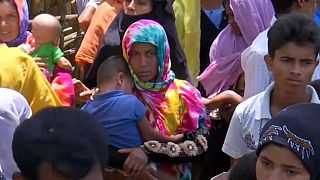 Thousands are fleeing Rakhine State in Myanmar as ethnic violence there reaches new levels of ferocity.
Amid claims by Human Rights Watch that many of their townships are on fire, Rohingya muslims are pouring into Bangladesh, which has said no new refugees will be allowed in. There are reports that some refugees between the two borders are being pushed back by Bangladeshi security forces.
Laila Begum, a Rohingya refugee, said:
"They took my husband away from our house and killed him. Villagers told me. They killed my husband and my son-in-law."
It is difficult to determine exactly what is happening in the affected area, as police officers have been preventing journalists from travelling there. The Human Rights Watch claims are based on satellite imaging.
New satellite data consistent with widespread burnings in at least 10 areas in Burma's Rakhine Statehttps://t.co/StlkO3B4jPpic.twitter.com/TPuB6wJvs0

— Jan Kooy (@KooyJan) August 29, 2017
Rohingya are denied citizenship in Myanmar and classed as illegal immigrants, despite a heritage there that can go back hundreds of years.
Attacks on security posts
The latest violence appears to have been triggered by a series of coordinated attacks on police check points and an army base carried out by Arakan Rohingya Salvation Army (ARSA), a group previously known as Harakah al-Yaqin.
Injured policemen say that they were attacked with sticks, swords and knives. One policeman travelling to get treatment by boat said that he was attacked with a machete as he went to reload his gun.
Similar attacks were mounted last October, prompting brutal military reprisals that generated international criticism.
Buddhist population displaced
Buddhists, too, are being displaced, many fleeing Maungdaw, where the worst of the fighting seems to be taking place.
Many have turned to monasteries for shelter. One Buddhist Maungdaw resident, Hla Nu Sein, explained:
"I thought I was going to die while the clashes were happening. I couldn't run fast as my knee isn't good. There are some elders still left in the village. All we can do is bring our children here."
The fleeing fear that the insurgent group behind last Friday's attacks will strike again.