Floods kill more than 1,200 in Asia as all eyes are on Hurricane Harvey
Comments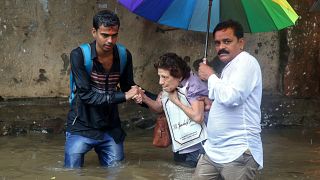 As Hurricane Harvey battered the US to devastating effect, another area of the world was stricken by flooding.
While all eyes were on Texas, the death toll from monsoon floods in India, Bangladesh and Nepal crept above 1,200, officials have said.
Receiving less media attention than the US, rescue workers scrambled to provide relief to millions of people stranded by the worst flooding the area had seen in years.
All three countries suffer yearly flooding in the monsoon season, which runs from June to September, but this year is far worse than usual, said international aid agencies.
Population
The dense population of India has meant millions more people have been affected than the US, whose towns are much less crowded.
In Uttar Pradesh – the most populous state of India – at least 88 people were killed when floods swamped nearly half the vast state of 220 million people, Indian government officials said.
In the worst-affected area of the US, the Houston metropolitan area in Texas, where 6.8 million people live, 30,000 people were expected to seek emergency shelter.
Death tolls
The number of people killed in Nepal has reached at least 150, while 90,000 homes have been destroyed.
In neighbouring Bangladesh, at least 134 people have died and more than 5.7 million were directly affected, as monsoon flooding submerged more than a third of the country.
The death toll for Harvey today (August 30) reached at least 18 people and continued to rise.
The damage is twofold
Harvey was expected to dump another 18-33 cm of rain before Thursday (August 31) over parts of the upper Texas coast into southwestern Louisiana, the National Weather Service said.
The same was the case in South Asia where "a second wave of floods led to widespread destruction," according to Rajan Kumar, a federal interior ministry official overseeing the rescue and relief operations in New Delhi.
Businesses and unemployment
The agriculture industry in South Asia has been drastically affected.
"This year farming has collapsed due to floods and we will witness a sharp rise in unemployment," said Anirudh Kumar, a disaster management official in Patna – the capital of poor Bihar state, which borders Nepal.
While in Bangladesh, a farm dependent country, crops on 10,583 hectares of land have been washed away, according to the disaster ministry.
Harvey has also had a significant effect on the US, knocking out around 13 percent of the country's total refining capacity, according to company reports and Reuters news agency estimates.
The hurricane was set to be one of the costliest in history for US insurers, as flooding could destroy as much as $20 billion in insured property, according to Wall Street analysts.
Aid efforts
Natural disasters in both areas required huge efforts to help those in need
Indian Prime Minister Narendra Modi conducted an aerial survey of flood-hit Bihar state on Saturday (August 26) and has pledged a relief fund of $78m.
While US President Donald Trump headed to Texas on Tuesday (August 29) to oversee the response to Harvey, the first major natural disaster of his tenure.