ISIL fighters flee Iraqi city Tal Afar to defend nearby al Ayadiya
Comments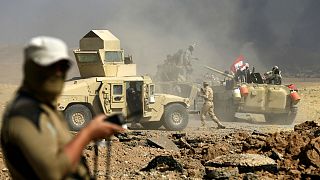 Peshmerga troops have detained several suspected ISIL members as they flee following the fighting to recapture of the Iraqi city of Tal Afar.
Hundreds of self-styled Islamic State fighters are said to have now moved on and entrenched themselves in the nearby town of al Ayadiya.
Peshmerga commanders say they've arrested over 200 militants hiding among displaced civilians.
Rounding them up is proving to be difficult as Peshmerga Commander, General Kamil Harki explained:
"It is not that they give themselves up. They don`t surrender. We arrest them, many of them with their suicide belts. We arrest some of them and we kill some of them. I would say over thirty have been killed here."
#ISIS Resort to #AlAyadiya as their Last Refuge in #Ninevehhttps://t.co/Ku54Mzxg0kpic.twitter.com/oJXlyldyrJ

— Asharq Al-Awsat Eng (@aawsat_eng) August 29, 2017
Battle-hardened militants in al-Ayadiya are said to be mounting a fierce resistance.
The fighting follows last weeks multi-pronged operation by Iraqi-led coalition forces to retake Tal Afar, a month after recapturing Mosul, Iraq's second largest city.