EU and African leaders agree a new roadmap to tackle the flow of migrants into Europe
Comments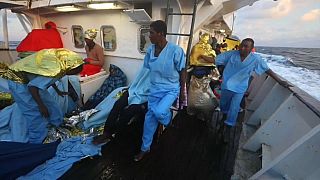 A new roadmap to tackle illegal trafficking and stem the flow of migrants and refugees into Europe from Africa has been agreed in Paris.
"We must all act together, from the source countries to Europe and passing through the transit countries, especially Libya, to be efficient," said French President Emmanuel Macron. "It's a challenge as much for the EU as for the African Union. It's with this in mind that we had this meeting."
The plan will be to carry out 'protection missions' to identify safe areas, in Niger and Chad. Hotspots will be set up and, under the supervision of the UN High Commissioner for Refugees, it will identify migrants fleeing war and persecution and those who are economic refugees.
The EU has so-far, struggled to agree on a coherent answer to the influx of migrants and the crisis is testing cooperation between member states.
From the beginning of the year, 120,000 people passed into Europe; 2,400 have drowned along the way.
"Of course we are all committed to reducing the damage, the death of Africans in the desert, the death of Africans crossing the Mediterranean," said Chad President, Idriss Deby.
At the meeting on Monday, the leaders of Italy, France, Germany and Spain agreed to bolster support to Chad and Niger in controlling their borders, and with the fight against trafficking.
The fight against poverty also remains a priority as does the need for development aid. During a 2015 summit on migration, the 28 country bloc placed 1.8 billion euros on the table for Africa.