Japan dominates on day one of Budapest World Judo Championships
Comments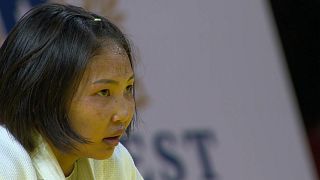 The first day of the Judo World Championships saw no surprises until the semifinals, which included the top three women in the under 48 kilo category.
Japan's Funa Tonaki met Mongolia's Urantsetseg Munkhbat in a crunch final.
World number two and former world champion Munkhbat was the favourite over Tonaki. But the Japanese world number thirteen had already signalled her intent by ousting world number one and super favourite Otgontsetseg Galbadrakh in the semifinals.
The two warriors put on an enthralling display of skill and strength but eventually the Japanese judoka took home a career-first gold with a beautifully executed waza-ari.
It also meant a fantastic start for Japan in these world championships.
Funa Tonaki said:
"Even for the under 48 kilogram division I am a small competitor. So I would like to prove to the world that even small judoka have a fighting chance."
As gripping as the women's competition in its intensity, the men's proved equal to the challenge.
The final pitted the contrasting styles of Japan and world number two Takato Naohisa against Azerbaijan and world number six Orkhan Safarov. Two styles, but only one winner. The question on the spectator's lips was which style would prove superior.
One minute before the end of the contest, the Japanese scored waza-ari and twenty seconds later, he followed it up with ippon. Demonstrating real authority and no apparent weaknesses, Takato Naohisa dominated day one from the beginning until the end. It was a day for ippon and certainly the day of Japan as they added to their gold medal tally.
Takato Naohisa said:
"My senior Ebinuma won the world championships three times in a row. So my next goal will be to win three golds in a row and then to hopefully achieve something at the Olympic Games."
Over in the VIP corner, our first VIP guest came in the form of the legendary Olympic and former World Champion, Greece's Ilias Iliadis, who spoke with us about the first day of competition.
"The sixty kilos wasn't a surprise for me, Takato was a favourite…or one of the favourite athletes. He's already been world champion. Also we always know, the Japanese are often favourites. So today wasn't a big surprise. Today she (Tonaki Funa) was also a favourite you know and she did some really beautiful judo. She's young also and I think she's going to become stronger and stronger."
The moment of the day really lived up to the billing. In the under 60 kg category Amartuvshin Dashdavaa scored a wonderful ippon against North Korea's Yong Nam Pak. With a quick feint in one direction, then using his opponent's reaction, Dashdavaa threw him with apparent ease in a sublime display of minimum effort and and maximum efficiency – the very essence of Mongolian technique and a wonderful testament to the principles of judo.