Glorious weather for London's Notting Hill Carnival
Comments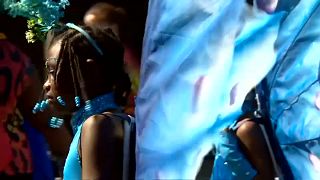 Large crowds have turned out for the last day of one of Europe's largest street festivals.
London's Notting Hill Carnival has been held in glorious weather, possibly the warmest August bank holiday on record.
Security was tight in light of recent terrorist attacks.
And there have been tributes to victims of the recent nearby Grenfell Tower fire.
One reveller said: "Today's a gorgeous day. And obviously I'm taking part wearing green for the Grenfell people, but you know, even down to my shorts! They're green as well."
An Australian woman said: "I was here last year and my sister and my Mum flew in on Thursday so I said you have to experience it, it's amazing. Australia needs something like this."