Venezuela holds military exercises after US threat
Comments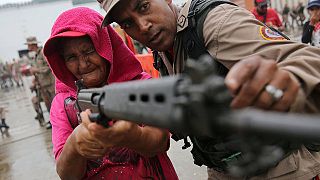 Venezuela is holding two days of nationwide armed forces exercises and has called on civilians to join reserve units to defend against a possible attack by the US.
War planes, tanks, and hundreds of thousands of troops and reserves were deployed along with civil militia members.
Venezuela's display of military might comes in response to US President Donald Trump's threat of military action two weeks ago and new financial sanctions announced on Friday.
In a national address, President Maduro condemned Washington for using economic and financial measures to impose its political will over a country.
State TV images showed Venezuelans young and old entering military reserve registration centers. But there was no evidence of registration beyond the most ardent supporters of Maduro's Socialist Party.
Trump's threat of military action has played into Maduro's hands by supporting his oft-repeated assertion that the US is waging economic war on Venezuela.