Barcelona death toll rises to 16
Comments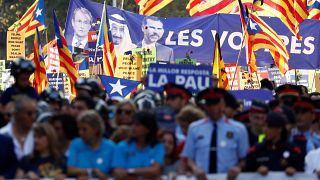 The death toll from this month's twin attacks in Catalonia rose to 16 on Sunday.
A German woman died 10 days after being injured when a van ploughed into pedestrians in Barcelona.
The 51-year-old had been left in a critical condition after the attack on Las Ramblas boulevard.
That incident has now killed 14 people, and two others died during the driver's getaway and in a separate car and knife assault in the Catalan coastal resort of Cambrils.
It comes after hundreds of thousands attended a peace march in Barcelona on Saturday.
Holding placards and banners which read "I am not afraid", the march was led by emergency workers, shopkeepers and residents of the city's Las Ramblas boulevard, where a van was deliberately driven into pedestrians.
Members of Spain's Islamic community marched alongside King Felipe and Prime Minister Mariano Rajoy.
An estimated 500,000 people gathered in Barcelona on Saturday evening to rally against terrorism.
Half a million take to the streets in big anti-terror rally in #Barcelona. pic.twitter.com/UusaMxok9Q

— Kevin W. (@kwilli1046) August 26, 2017
Anti-terror demonstration in Barcelona in 1 pic: "Felipe (King), he who wants peace, does not do arms trafficking" in front of… the King! pic.twitter.com/eK6LcboTyL

— Xavier Sala-i-Martin (@XSalaimartin) August 26, 2017
Actress Rosa Maria Sarda was one of many who spoke to those gathered: "We're not afraid. We condemn these crimes that only aim to provoke terror through the death and devastation in order to try to break our model of coexistence"
A message of unity and solidarity echoed by all who addressed the crowd.