FARC unveil new political party
Comments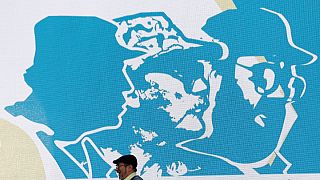 Colombia's leftist FARC rebel group has unveiled its political party at a conference in Bogota.
It's widely acknowledged as a major step in its transition into a civilian organisation after more than 50 years of civil war.
The party which is as yet still un-named, is due to spell out its campaign manifesto for next year's elections.
FARC's commander Rodrigo London, alias "Timochenko" addressed the conference:
"We have in front of us many challenges and many difficulties. Nothing is easy in politics, much less revolutionary activity. The regime and the system are not made for us but we are immerse in them and willing to change them."
FARC leader Timochenko addresses founding conference of new political party in historic step for peace process pic.twitter.com/ejQoYpfxoB

— Mariela

JFC

(@MarielaJFC) August 27, 2017
Those difficulties lie mainly with the fact that many voters revile the group after decades of war which left more than 220,000 people dead. Their often regarded as "old fashioned" Marxist rhetoric has left some sections of the public sceptical. But proposals to reform complicated property laws may get traction with rural voters.
Peace deal
FARC's fighters were grated an amnesty and allowed to participate in politics under the 2016 peace deal with the Colombian government.
The peace accord, rejected by a less than 1 percent margin in a referendum before being modified and enacted, awards FARC's party 10 automatic seats in Congress until 2026, but the group may campaign for others.
The group has also handed in more than 8,000 weapons to the United Nations under its demobilisation.