Hurricane Harvey's might seen from the International Space Station
Comments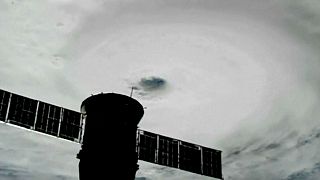 Images from the International Space Station showed the full scale of Hurricane Harvey as it smashed into the US coast yesterday (August 25).
As Harvey formed into a Category 4 storm a swirling mass of clouds could be seen from the sky.
Harvey landed about 70 km east of Corpus Christi in Texas, and reached sustained winds of 215 kph, the NHC said.
Around 5.8 million people were believed to be in the storm's path and while thousands fled, many defied mandatory evacuation orders.
In Rockport, one of the towns hardest hit by the hurricane, the mayor told any citizens staying in the area to write their names on their arm for identification in case they were injured.