Search resumed for eight missing hikers in Bondo, Switzerland
Comments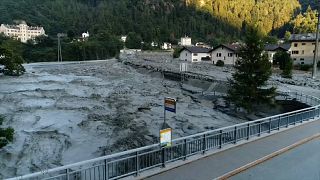 The search is back on for eight hikers still missing after a massive landslide in Bondo, Switzerland, on Wednesday. The rescue had been called off overnight for security reasons.
Around a hundred rescuers are using dogs, infra-red and machines to detect waves from mobile telephones to try to locate an Austrian couple and six German and Swiss mountaineers.
Village devastated
Twelve buildings are reported destroyed or damaged in Bondo, from which residents had been evacuated in advance, thanks to an early-warning system installed after a previous disaster in 2012.
A meeting has been held to inform them about when they are likely to be able to return home.
Massive slip
A torrent of four million cubic metres of rock and mud came down the mountain in the catastrophe, producing vibrations equivalent to an earthquake measuring 3 on the Richter scale.
This is the face of Cengalo that sheared off, causing the landslide that wiped out Bondo. pic.twitter.com/qa4gftYKsV

— Simon Tyler (@MrSimonTyler) August 25, 2017
A further one million cubic metres of material is still at risk of falling, and experts have not ruled out further, smaller landslides in the coming days.